Staff
Our dedicated staff members are here to provide support, compassion, and information to help you through your journey of grief and the celebration of your loved one's life.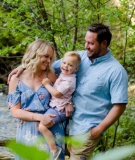 Colin and Hailey Zeman
Colin: Funeral Director and Mortician | Hailey: Office Manager
Colin Zeman spent his childhood in Duluth, Minnesota. His grandfather Casimir Michaloski owned and operated Koop Funeral Home in Crosby, Minnesota. His Aunt and her husband Nick now run the business. It was by their example of service to others that Colin decided to attend Mortuary Science School at the University of Minnesota, graduating in the spring of 2005.

Late December 2012 Colin bought the practice from Tom and Judy Davis helping them to attain their desire to spend more time with grandchildren and each other in an out of work environment.

Colin is a Licensed Funeral Director and Mortician in both Montana and Minnesota. He is also is a prearrangement specialist and licensed life insurance agent in both Montana and Minnesota, which allows him to protect clients assets while ensuring Medicaid eligibility. Colin is also the Franzen-Davis Crematory Operator charged with ensuring dignified service and a pristine facility. His wife Hailey serves the funeral home as an office manager.

Both Colin and Hailey have fallen in love with their new community. In 2015 Colin and Hailey were blessed with the addition of a son to their family. Our little man, Emmett, is often found supervising his parents at the funeral home.

We are truly grateful for the support of Park County and surrounding areas.

When visiting the funeral home be sure to say hello to Marlowe, our springer spaniel comfort companion.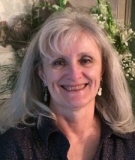 Sandy (Ted) Williams
Director's Assistant
Sandy is a Livingston native, attending Winans Elementary, Lincoln Junior High and graduating from Park High School in 1972. She attended one year of college before marrying Ted in 1973.

Sandy is very active in the Episcopal Church. She is a life member of St. Andrew's parish in Livingston, has served on the Vestry at St. Andrew's, has served on several committees and councils for the Diocese of Montana and has represented Montana at the Episcopal Church General Convention six times.

As the chaplain for Livingston HealthCare Hospice Sandy has officiated at many memorial and funeral services. She serves Franzen-Davis Funeral Home as a funeral home assistant and funeral celebrant.